Some preggy photos.
Click on the thumbnail to see the larger image.

This is me and Albert, my Mom, Bro, Grandma, and Grandpa at Thanksgiving. You can't see my belly, but I am pregnant in this picture!

This is me and my pregnancy buddy Susan, she is due May 24, just a week before me.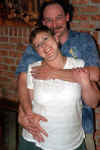 Me and Albert and belly.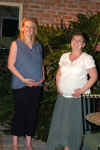 This is Heather and me. We met Heather and Jamie (her husband) at our childbirth class. She is due 2 weeks before me.

Belly at 25 weeks (Valentine's Day). The tattoo wasn't that big before.

Belly at 33 weeks.

Belly on 31 May 2004. I went into labor that night.